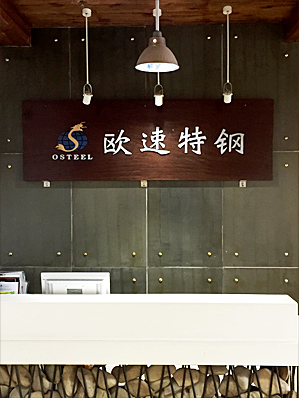 OSTEEL is a professional import and export trading company of special steel in China. The general manager and company executives come from BAOSTEEL and other world famous steel companies. They are engaged in the technical work and trade in special steel industry for more than 25 years. They are very familiar with the special steel industry both in China and abroad. In the quality control of export products, in addition to the quality control executed by production plants, we shall dispatch technicians to inspect the goods before ex works to ensure its quality of export products. Depending on our professional technology and trade experience, we shall choose proper steel products for our customers with good quality and competitive prices. We provide quality customer service and enjoy a high reputation in the industry.
We have close and long term relationship with BAOSTEEL, ANSTEEL, SHASTEEL, NANJING STEEL, PANSTEEL etc. Our main products are forged and hot rolled steel round bar and hollow bar, forged mould steel block, alloy steel, mould steel, hot rolled flat bar and heavy plate, wear resistant plate, grinding ball, steel pipe, forged tube, forgings rings and rollers , wind power generator rotor, welded pipe, bulb flat as well as angel steel for ship building. We deliver more than 50,000mt special steels all over the world each year.
Our supply specification is usually in accordance with quality standards of  GB, DIN, EN, ASTM, JIS etc, and we could also supply steel in accordance with a variety of industry-standard like ASME, API, ABS, GL, LR etc. In a word, we provide reliable steel products with good quality which can meet every customer's requirements.
Up to now, our sales market has been extended to Southeast Asia, Middle East, Europe, North America and South America. Our steel is widely used in industries of die and mold, ship building, mechanical equipment, mining and petrochemical. We have close partners and customers all over the world, which are middle and small sized works, huge stockist as well as super steel works and trading company in TOP 500. We shall always provide our customers with high quality and competitive products and best service.